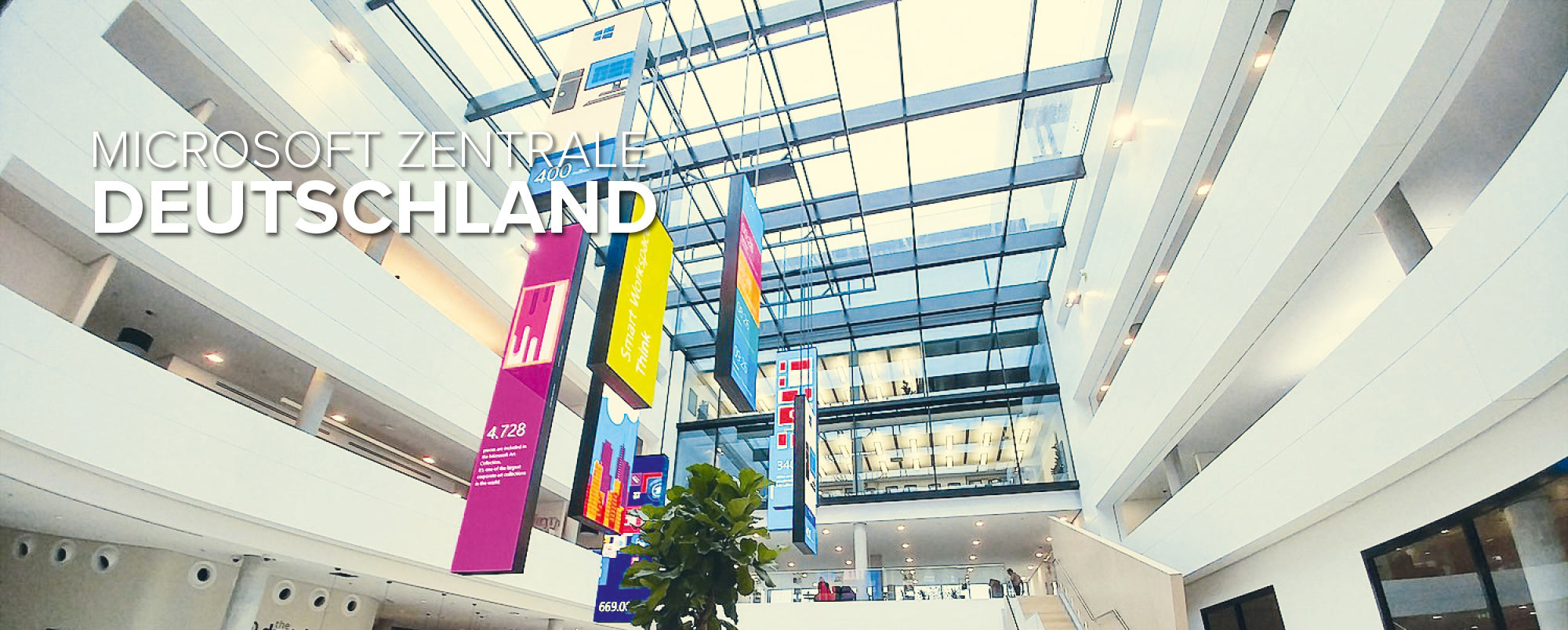 LED display technology meets
Design integration
Information, communication, simple control and design elements of LEDCON at Microsoft Germany.
High quality LED display technology meets design integration - an individual project by LEDCON Systems GmbH.
As a manufacturer of high-quality LED displays and integrated concepts, LEDCON Systems develops individual design elements and implements them with the help of long-standing partners such as Pro Video Broadcast and Conference Technology from Berlin. LEDCON UFrame modules with a pixel pitch of 3.9mm were used for the project at the Microsoft headquarters.
The individual chandaliers were pre-assembled at LEDCON in Rheine, so that only the assembly of the finished elements was carried out on site in Munich. For this purpose, black sheets were attached to the suspensions in advance to determine the positioning and the individual heights of the chandaliers. The new building of Microsoft Germany was in the final construction phase at the time of assembly. This meant an enormous time limitation for the LEDCON employees. In addition, the individual suspensions had to be covered or veiled at times, as other building trades whirled a lot of dust into the air.
Project in
perfection
deliver
Project manager Mr. Frank Stallmeier: "We had a relatively tight schedule and had to coordinate extremely closely with our partners in this project. Our aim was to deliver this project in perfection and to deliver a design element in a class of its own". With the partners Pro Video Broadcast- und Konferenztechnik from Berlin, Müller BBM GmbH (engineering company for consulting, planning, measurement, expertises and research in the fields of construction, environment and technology) and Westwave Metall, a good six months of planning and preparation were spent.
After the chandeliers had been mounted and hung with millimetre precision, the calibration was started. To get a perfect picture on the LED displays, the individual LED display tiles and LED pixels are captured by a special camera. This gives a detailed screen layout and allows contents to be displayed one-to-one. This test and adjustment phase usually requires constant lighting conditions. Calibration work is often moved to the night, because disturbing light sources caused by daylight do not occur or artificial light can be suspended or switched off. Besides, the night brings the best peace to do such delicate work.
After the software, calibration and content issues were clarified, the future responsible persons were trained, who will continue to play the content on the chandeliers. It was to be noted that the content always has a certain size and resolution. 
The result is impressive! Information, communication, design element combined with the latest LED display technology from LEDCON Systems. We would like to thank our partners and for the trust that our customers place in us.